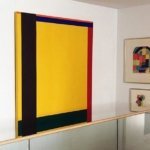 The Artiteq Shadowline Rail Drywall picture hanging rails is true to its name. A shadow line is all that you see between the walls and the ceiling. Use it in new-builds or renovations and have walls that are clean and undamaged with a picture hanging system throughout your entire space.
This integrated, ceiling-fixed art track suits all construction types – all you need is a ceiling beam to attach the tracks to. It's shadow line gap matches the P50 ceiling bead's shadow line gap size. It suits 10mm and 13mm ceiling linings.
The Artiteq Shadowline Rail Drywall hides your picture hanging rail. Your  picture hanging wires are suspended directly form your ceiling. Combine it with 1mm Perlon hanging wires and you'll have the most invisible art hanging system on the market.
Rail width: 250cm, depth: 13.5mm, height: 14mm, white primed
Ceiling fixed: suited to plasterboard stud frame construction
Built-in. Installed at the same time as a recessed ceiling.
Fixed in the same location as P50 trim
Maximum weight: 20kg per metre
Disappears into the shadow line created between the wall and ceiling.
10 year warranty – a sustainable, TUV certified Artiteq product
Click here for more information
Artiteq product number: 05.08410 (10mm) and 05.08420 (13mm)